THE BENEFITS
OF A COMPLETE
PRE-LAMB PLAN
A Pre-Lamb Plan with ewe vaccination & effective drenching gets more lambs through to weaning.
It's important to follow your pre-lamb plan all the way through. From the vital pre-lambing period, through to when lambs exit the farm, a plan with correct vaccination and targeted drenching ensures maximum success with healthier and heavier lambs at weaning.
SUCCESS DOESN'T JUST HAPPEN. IT'S PLANNED.
THE ZOETIS RANGE HELPS SIMPLIFY THE HEALTH, NUTRITION AND GENETIC ELEMENTS FOR YOUR FARM TO MAXIMISE A SUCCESSFUL LAMBING.

Choosing the right drench for your flock
Planning which ewes to treat and selecting the most appropriate product can help lift the performance of the entire flock. Unnecessary treatment is just another cost. Single ewes in good condition should not need parasite treatment, but they will require a clostridial vaccine. Twin ewes in poor condition will benefit significantly from a long acting treatment (e.g. Cydectin® Long Acting Injection for Sheep) given at pre-lambing or even as early as scanning. Single ewes in poor condition, or twin ewes in good condition but on poor feed may benefit from a medium acting treatment (e.g. Eweguard®) given at pre-lambing. It's important to choose the right drench to make this a successful lambing.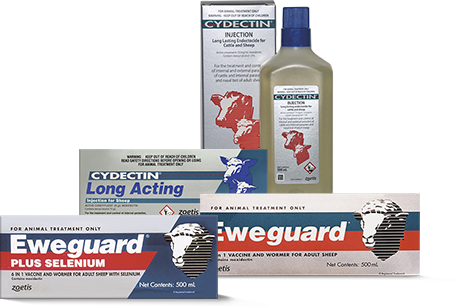 Cydectin Long Acting Injection For Sheep
Provides persistent activity for improved worm control with moxidectin, the most potent macrocyclic lactone (ML).
No other product offers longer protection against Teladorsagia (Ostertagia) circumcincta NZ trial work demonstrated that, on average, treated ewes were 3.2kg heavier and produced lambs that were 2.6kg heavier at weaning compared to untreated ewes 1 Easier to administer and delivers equivalent production benefits to capsules 1 Use with either Ultravac SD 6 in 1, Ultravac 5 in 1 or Lifeguard 5 in 1 for protection against clostridial disease
Eweguard
Get around labour and time constraints – for proven performance in one product.
Contains moxidectin, the most potent ML
Shown to increase ewe and lamb weaning weights in NZ field trials 2
6 in 1 vaccine protection (5 clostridials + Cheesy Gland)
Also available as Eweguard Plus Selenium or Eweguard Plus SE B12
Convenience of 2 jobs in 1 product


Which Vaccine is best for my flock?
Protect your ewes and your lambs will benefit too.
As pregnancy advances and the ewe's immunity relaxes, she becomes more susceptible to disease. Clostridial diseases (Tetanus, Pulpy kidney, Blackleg, and Malignant Oedema) are common causes of sudden death in ewes and their lambs. Preventing these deaths through vaccination of the ewes 3-4 weeks prior to lambing with Ultravac 5 in 1 or Lifeguard 5 in 1 is important to reduce ewe wastage and to pass on protective antibodies through the colostrum to protect the lambs, until they can be vaccinated. Timing is crucial to ensure good colostrum antibody production. Ensure ewes are not feed restricted for too long, too close to lambing and following vaccination.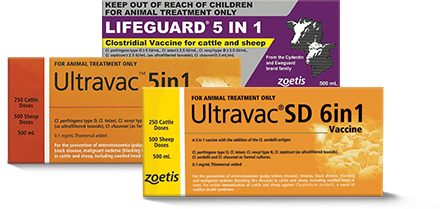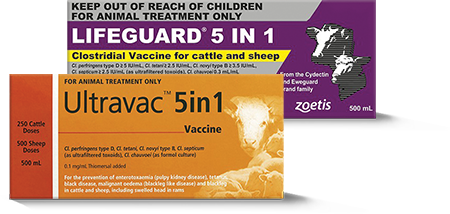 Ultravac 5 in 1 or
Lifeguard 5 in 1
5 in 1 vaccines provide protection against the 5 main clostridial diseases. Lambs receive protective antibodies through a ewe's colostrum, giving protection for the first 6-8 weeks of life.
Can use in lambs from tailing
Use up to 30 days after opening
Convenient 1ml low dose
Available with Selenium
Ultravac SD 6 in 1
Use in high performing, valuable flocks or when stock are being grazed intensively especially on crop where deaths still occur despite a good 5 in 1 vaccination programme.
Protects against Clostridial Sordellii, a cause of Sudden Death in sheep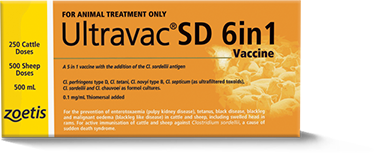 SIGN-UP FOR EMAIL UPDATES
on how to improve your livestock management
and latest solutions.